About St Dominic's Church Dursley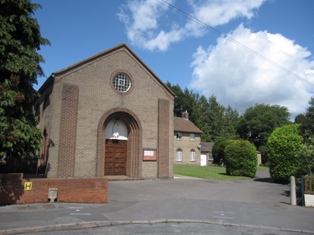 In 1845 William Leigh bought an estate at Woodchester. He built a church at Woodchester and invited the Passionist Fathers and then the Dominicans to minister to the area. They built churches at Stroud and Nympsfield. They also received many people into the Church, and these formed the basis of the Catholic community in Dursley. Initially the Dominicans said Mass in a barn in Broadwell Street Dursley, and from 1933 Mass was said in a YMCA hut in Long Street. Parishioners included Mrs Millicent Lister, and Mr Evelyn Waugh. These two assisted local efforts to build a proper church in Dursley, and the foundation stone of St Dominic's was laid in 1938. The church was dedicated to St Dominic in recognition of the work of the Dominican friars, and it was opened on 26th February 1939. The presbytery was built in 1954.
The parish community has long included Catholics from Poland, Italy and Ukraine. These communities are part of our parish history and part of our parish family.
St Dominic's today is a small but friendly community. Dursley and Nympsfield function as a combined parish, served by one priest, who is resident at Dursley. He is also Chaplain to the local Catholic Primary School: St Joseph's in Nympsfield. The parish has a flourishing UCM, a Prayer Group and a splendid parish hall. There are many activities in the parish, and these are detailed more fully in the newsletter. If you are new to the parish, please give your details to the Parish Priest. If there is any more information that you require, please get in touch.