History of St Dominic's Church Dursley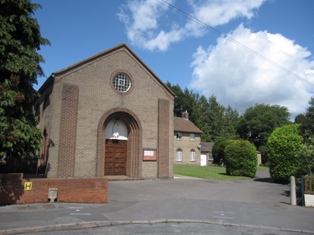 In 1845 William Leigh bought an estate at Woodchester. He built a church at Woodchester and invited the Passionist Fathers and then the Dominicans to minister to the area. They built churches at Stroud and Nympsfield. They also received many people into the Church, and these formed the basis of the Catholic community in Dursley. Initially the Dominicans said Mass in a barn in Broadwell Street Dursley, and from 1933 Mass was said in a YMCA hut in Long Street. Parishioners included Mrs Millicent Lister, and Mr Evelyn Waugh. These two assisted local efforts to build a proper church in Dursley, and the foundation stone of St Dominic's was laid in 1938. The church was dedicated to St Dominic in recognition of the work of the Dominican friars, and it was opened on 26th February 1939. The presbytery was built in 1954.
The parish community has long included Catholics from Poland, Italy and Ukraine, and now also France, Sri Lanka, The Phillipines, Nigeria and others. These communities are part of our parish history and part of our parish family.
St Dominic's today is a small but friendly community. The parish has a flourishing UCM, a Prayer Group and a splendid parish hall. There are many activities in the parish, and these are detailed more fully in the newsletter. If you are new to the parish, please give your details to the Parish Priest. If there is any more information that you require, please get in touch.
Pastoral Council
The Parish Pastoral Council meets approximately 4 times a year, and each meeting includes the opportunity to present parish feedback.
If you wish to contact the PPC for any reason, please get in touch with one of the members either by contacting the Parish office or in person. The PPC members are:
Fr Philip Beisly
Deacon Domenic Bucci
John Hudson (Chair)
Colin Archer
Mary Cryan
Laura Gardiner
Louisa Rubin
Pete Tarski
Sue Whitney
Pat Uglow
Minutes of the last meeting can be found here.
Finance Committee
The parish Finance Committee acts as the parish Finance Council which is established under Canon Law. It meets every 3 months and its members are:
Fr Philip Beisly
Sue Whitney (Treasurer)
Colin Archer (Gift Aid Secretary)
Pat Uglow
Michael Setter
The 2022 Annual Report can be found here.
St. Dominic's Union of Catholic Mothers

The UCM in Dursley was founded on 17th February 1960. Our Foundation is part of the Clifton Diocesan UCM. In turn the Clifton UCM is part of the National Association and regularly sends representatives to National Council meetings and Welfare and Study Days, as well as taking part in the annual pilgrimage to Walsingham. Members from St. Dominic's have always supported these events as well as joining other pilgrimages such as those to the Holy Land and Oberamagauh.
During the year Quarterly Masses are held at various churches throughout the diocese.
A varied and challenging programme is planned each year. We meet in the church hall on the second Tuesday in the month. Topics range from Cake Icing, Wood Turning, and Travel to Social Issues as explained by speakers from the Samaritans, help for those involved with Prostitution to return to a more stable life style and Winston's Wish, the charity set up to help bereaved children. We raise considerable sums of money for CAFOD and the Clifton Diocese annual charity. We also pay for sending cards of congratulation or sympathy to parishioners and contribute to officers expenses. Furthermore, we are currently masterminding Appeal Fund activities to raise money to improve the Church and its hall.
One of the objects of the UCM is "to offer love, sympathy and practical help to the family in difficulty". All our members certainly try to live up to this ideal by supporting members in time of need, by their work in the community, such as Meals on Wheels, helping Charities by fund raising or working in their shops, running a Lunch Club for the Frail and Elderly, providing tape recordings of news from the local paper for the Blind and many other activities.
St. Dominic's is a very active foundation whose members are tireless in their work for the church and the wider community. The UCM is a national organisation, which takes seriously the many social, moral, ethical and religious issues of the day. It is a valuable forum for debate as well as providing a wonderful network of friends.
We always welcome new members and should you be interested in joining us please contact the Church office or assuming you're one of our regular parishoners speak to Pat Uglow or Fr Philip.
Getting Involved
St Dominic's Parish strongly encourages all to volunteer their services in some way to help support and build up the parish community, working either alone or with others, however you feel most comfortable. Help is needed with all of the following:
Children's Liturgy
Choir singers and instrumentalists
Church Cleaners
Flower Arrangers
Refreshments
Property Maintenance
If you feel you can assist in any or all of these areas please speak to Fr Philip.